An insight by Andrew Howie

BMW – The Hire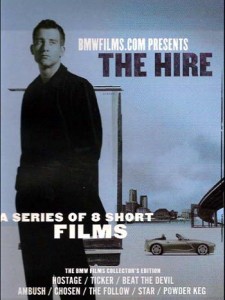 Some people may know him from "The International", whilst others may know him from "Duplicity". But millions of people around the world know Clive Owen as "The Driver".
"The Driver" is an 8 part series of short films, all produced for the internet, that have been directed by world famous directors. This includes such big names as John Woo, Joe Carnahan and Guy Ritchie, who between them have directed such masterpieces as 'Mission Impossible II', 'Face/Off', 'The A-Team' and 'Smoking Aces'.
These short films all revolve around a particular car in the BMW range. In the initial episode, it features the 7 series. Then in subsequent episodes it shifts to the 3 series, 5 series, the M5, the X5 and then finally Z4.
Throughout the series, the cars performance, handling and style is portrayed, but in a manner that does not detract from the plot. They in fact are integral to the story telling. They are seamlessly integrated and, along with Owen, are the heroes of the plot.
The stories range from a war photographer who witnesses genocide to a diamond smuggler escaping from those he stole from, to a man (the Godfather of soul James Brown) who sold his sole to the devil, but now wants it back. In one episode, starring Madonna, Clive Owen is tasked with driving the starlet to her concert. Unaware of who she is an more importantly, disinterested, he gives her a taste of her own medicine, served up through the performance of the M5.
Whilst none of the films rattle off the list of features as you would expect from traditional advertising, nor feature the long winding road in glorious sunshine, they are engaging and a well worth watching.
So successful was the concept, following their launch, BMW experienced around 12% incremental growth. The movies have been viewed in excess of 100 million times online, then enjoying sell out success when there were limited release DVDs distributed through dealerships and Vanity Fair.
The series was eventually scrapped due to the rapidly soaring costs to make. BMW however were staggered by the success of the campaign and saw it as revolutionising the way they advertised their product. The series has also become a case study for how brands can integrate their products in to branded content.
Episode 1 – The Ambush
httpv://www.youtube.com/watch?v=PKYUtUw-8ig
First episode in the second series – Beat the devil
httpv://www.youtube.com/watch?v=3nxV1Iw6PFI