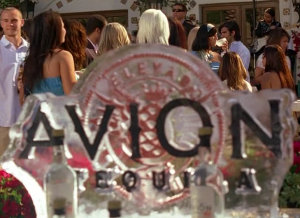 An insight by Michael MacRitchie
I've been a fan of the HBO show 'Entourage' since it debuted more than 5 years ago. It's a quick fix instant gratification show which offers a view into how things might be in Hollywood…. There are thirteen episodes per year and next year is the last season and there apparently will only be 6 episodes made or so. ….
This season one of the story lines has Turtle helping his now girlfriend Alex promote her Uncle's tequila brand made in Mexico called Tequila Avion www.tequilaavion.com . A good and interesting story line that branches out into nearly all the characters (not Ari Gold brilliantly played by Jeremy Piven.)
What I did not realize until this week is that Tequila Avion is an actual product sold in stores in the US. I saw a billboard promoting the brand and my jaw kind of dropped. A story in the New York Post this month http://bit.ly/bQ2tnb offered background on the founders of Avion and how they did not pay a penny for all the 'priceless publicity' for the new brand in Entourage.
I had noticed that 'Entourage' does promote a number of brands at various times during the show. Johnnie Walker Blue, Belvedere Vodka, SkyVodka, (lots of alcohol), Bluetooth, Victoria's Secret to name just a few all have been featured.
What makes it work so well is that the placements are seamlessly integrated into the story and they feel appropriate and right such that I really don't notice that this is an obvious marketing tactic during the context of the show itself.
Nobody likes a cheesy come-on but Tequila Avion is one of the first brands I can recall to be introduced within the context of a television program.I have no problem with it when it is done right as it is in the case of Tequila Avion