Fans, mark your calendars now and re-unite with King of Mandopop, Jay Chou who will be returning to Australia in March 2024 to resume his electrifying Jay Chou Carnival World Tour!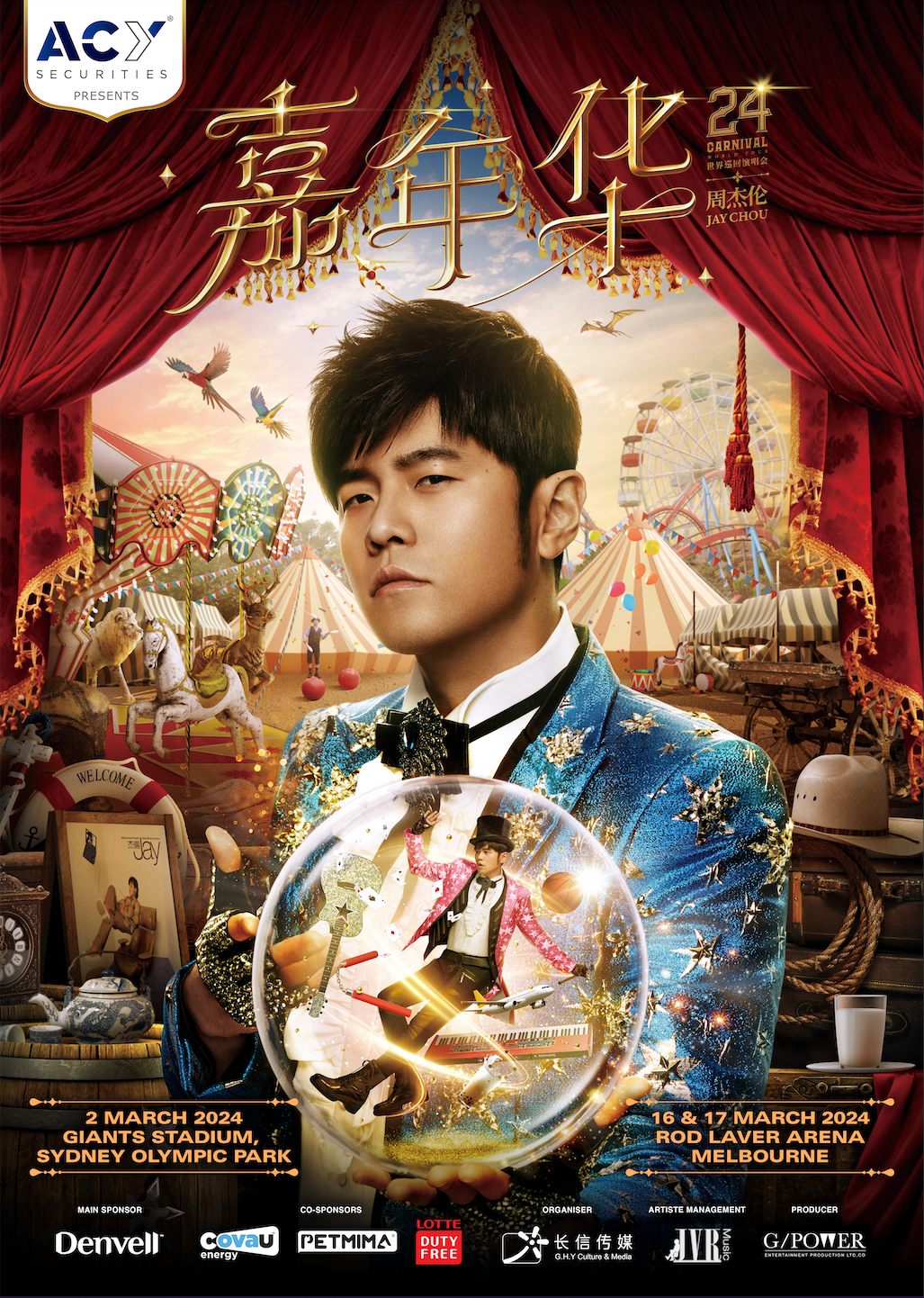 During his last sold-out Sydney stop, Jay Chou enthralled his die-hard fans and thrilled them with his stage performance and timeless songs. Against the backdrop of a riveting night at the GIANTS Stadium, with his audience waving their lightsticks in a sea of pink and excited unison, his last concert here ended on a super high with fans wanting more.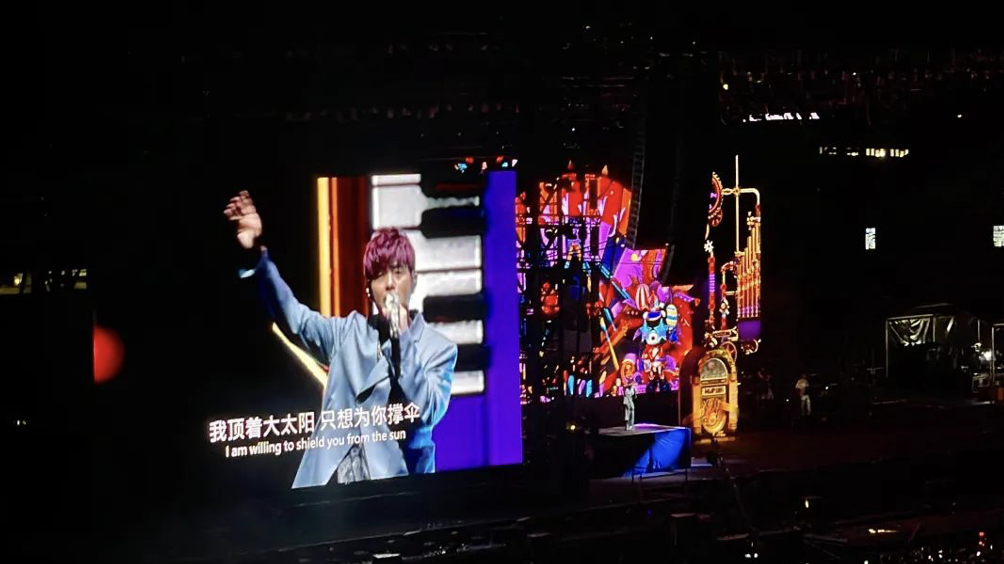 Jay Chou has a huge influence on the global music scene. In 2022, he ranked No. 9 on the IFPI Global Top 10 Artiste List and also won the top spot in the IFPI Global Top 10 Album Sales List. His album "The Greatest Works" even set a record for a Chinese-language album on this list! The record is the pride and representative of the Chinese music scene. In addition to Jay Chou's brilliant achievements in the music field, he is also accomplished in the film industry. From solo performance to directing, his film works have been acclaimed, showing the unique charm of his multi-disciplinary talents.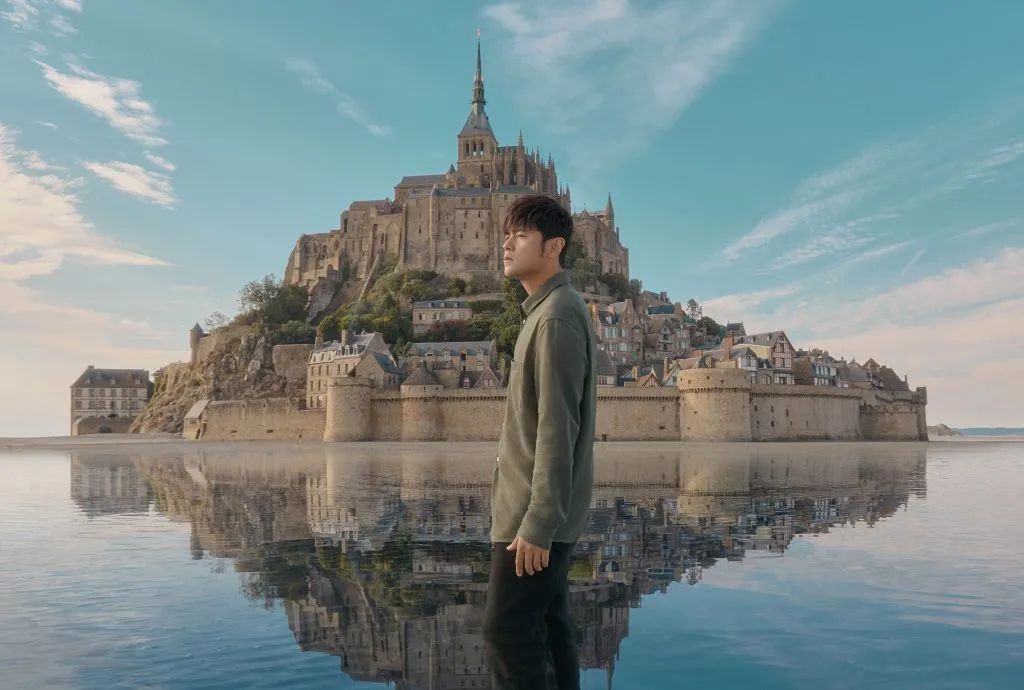 During his last concert in Sydney, Jay Chou received a great audience reception and promised to return. Return he will and this time and Jay Chou will be staging his concert in not just Sydney but also in Melbourne for the first time!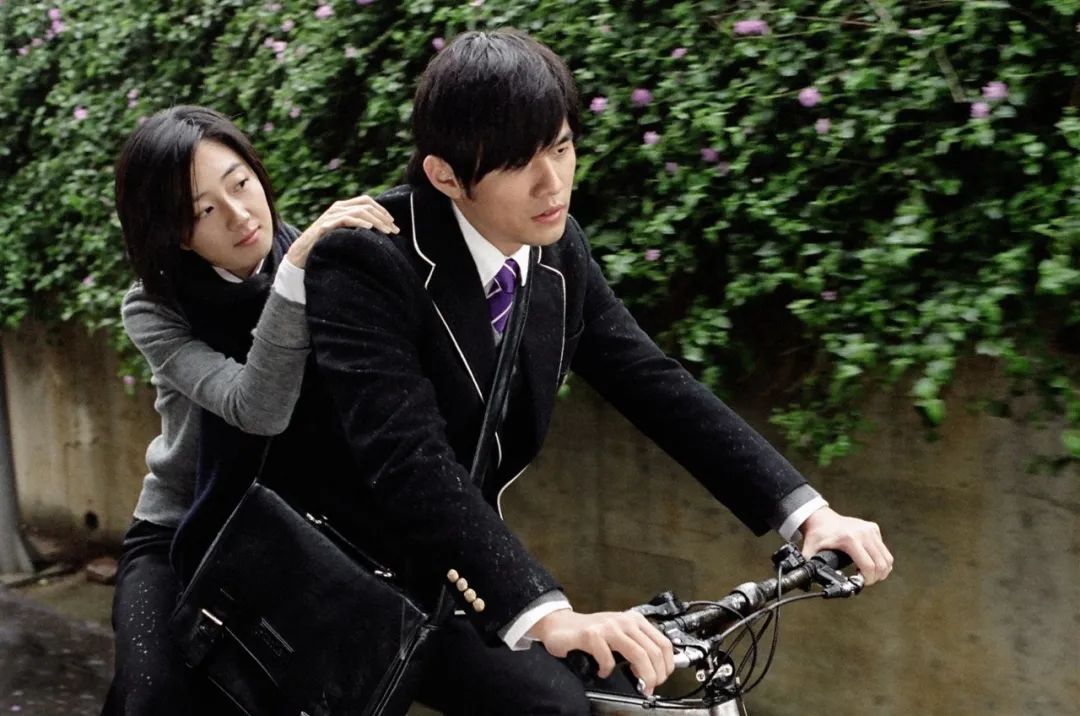 Led by the multi-hyphenate and his team, the Jay Chou Carnival World Tour 2024 will dive into a joyful carnival theme with well-designed visual effects that will allow fans to embark on an auditory and visual fantasy journey. The megastar will perform up to 40 songs, including his well-loved classic hits and new songs. Jay Chou will also be showcasing his talent on the piano, guzheng and other instruments!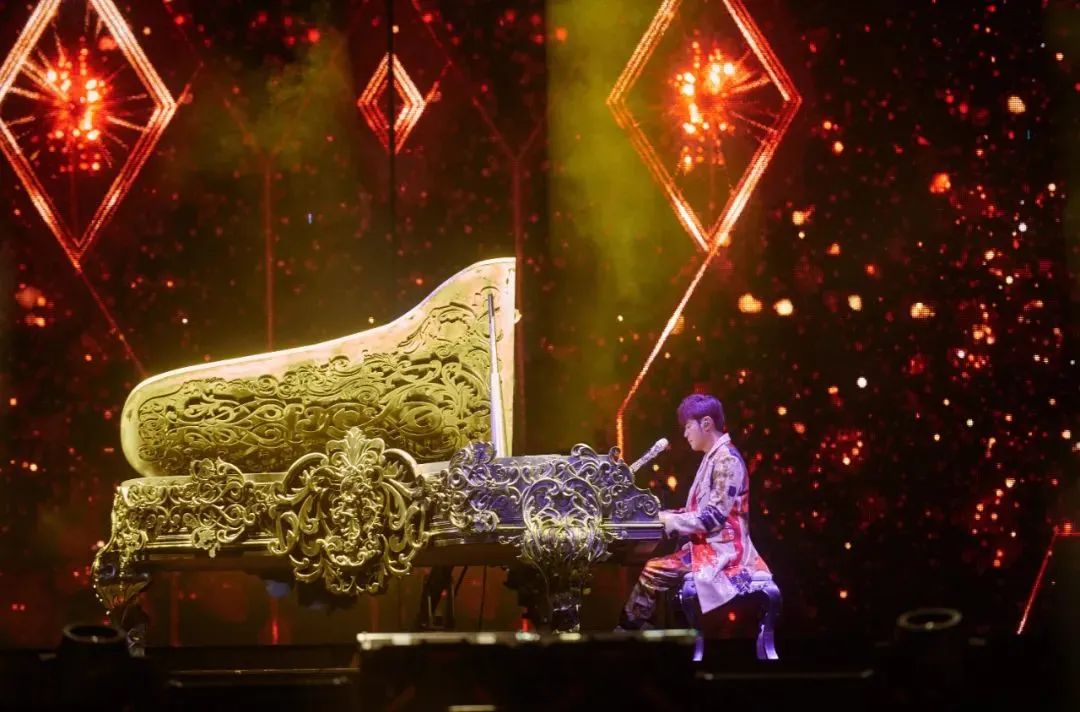 Get ready to immerse yourself in this sensational concert and join Jay Chou live in Australia! Tickets for Jay Chou World Tour Australia 2024 – will go on sale at 12pm on 26 October 2023, and tickets will go on sale at 2pm on the same day.
Ticketek Australia is the official ticketing company for the Jay Chou Carnival (Australia). Public ticket sales at https://premier.ticketek.com.au/
Carnival
Sydney
JAY CHOU CARNIVAL WORLD TOUR 2024 – SYDNEY Concert Details
Date: 2 March 2024
Time: 7.30pm
Venue: GIANTS Stadium, Sydney Olympic Park
JAY CHOU CARNIVAL WORLD TOUR 2024 – MELBOURNE Concert Details
Date: 16 & 17 March 2024
Time: 7.30pm
Venue: Rod Laver Arena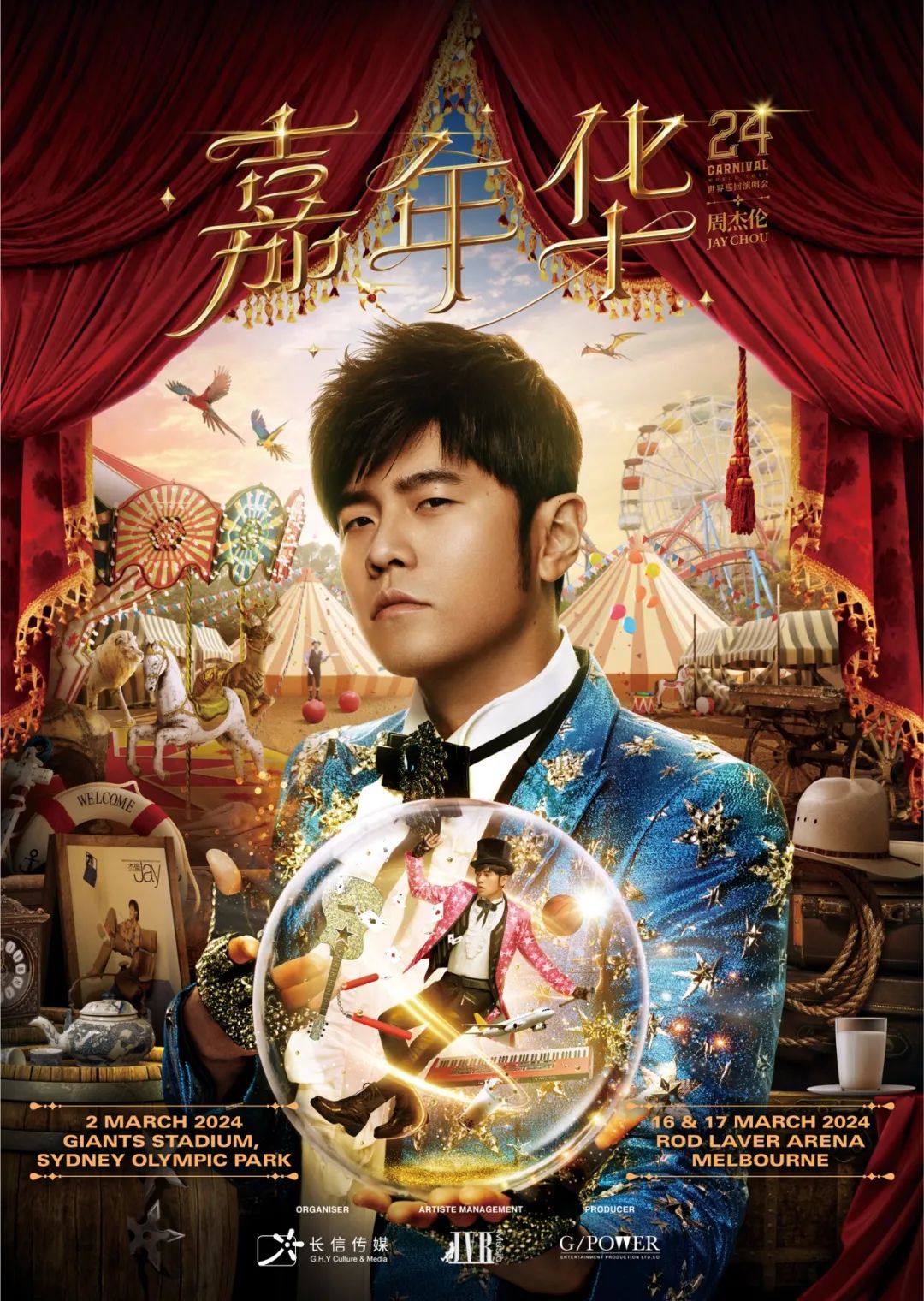 Ticket Prices: AUD$728, AUD$628, AUD$528, AUD$428, AUD$328, AUD$228, AUD$158 (excludes a one-off service and handling fee from AUD$4.95 per transaction)
Ticketing Website: https://premier.ticketek.com.au/
Jay Chou Carnival World Tour Australia 2024 is proudly organised by GHY Culture and Media (Australia), presented by ACY Securities, and sponsored by Denvell, CovaU, Petmima and LOTTE DUTY FREE.
For media enquiries, please contact:
Felyn Lian
Senior Manager
Email : [email protected]
About G.H.Y Culture & Media Holding Co. Ltd.
Currently headquartered in Singapore and the PRC with over 130 employees, G.H.Y Culture & Media Holding Co., Limited ("G.H.Y") is an entertainment business that focuses on the production and promotion of dramas, films and concerts in the Asia-Pacific region and engages in talent management services, and costumes, props and make-up services. GHY is listed on the Mainboard of the Singapore Exchange (SGX: XJB; Bloomberg: GHY:SP).
For more information, please visit https://ghyculturemedia.com
About ACY Securities
Headquartered in Australia's financial capital, Sydney, ACY Securities is authorised and regulated by the Australian Securities & Investment Commission (ASIC). Its services include around the world to trading in CFD instruments across multiple asset classes including stocks, FX currency pairs, indices, precious metals, commodities, and digital currencies.
It was recently named "Best Transparent Trading Broker 2022" with English Premier League icon, Tim Cahill, as its Global Brand Ambassador. ACY Securities also became the exclusive forex and CFD trading partner of the ATC (Australian Turf Club) since 2020, one of Australia's leading horse racing organizations.
About Denvell
Denvell Group was founded in 1989 in Sydney, Australia, with significant residential and commercial projects across Australia and the Asia-Pacific region. Denvell is proud to be one of the country's most respected holding firms and a second-generation family business with a strong sense of values and integrity. Denvell specialises in industry-leading developments and long-term investments which deliver enduring value to residents, businesses, partners and communities. Denvell seeks to invest in projects which are original by design and which will make a meaningful difference. By respecting tradition and understanding today's market, Denvell aims to create a better future.
About CovaU
CovaU Energy is the energy brand under the TPC Group (ASX: TPC), providing professional and comprehensive electricity and gas services to Australian households and small businesses. To date, CovaU has served tens of thousands of enterprises and families with stable energy plans, operating in New South Wales, Victoria, Canberra, South Australia, Queensland and Tasmania.
In 2018 and 2020, CovaU received various awards, including the Best Gas and Electricity Plan Award from the reputable website MOZO. Additionally, it was recognized as the Best
Energy Provider for 2022 and 2023 on Australia's most comprehensive consumer review website, Product Review.
About Petmima
The dedicated professional team of animal lovers at Petmima have set out to design a range of products to help your family pet have the very best of their life. From the wholesome range of mixed nutrients & probiotics to the vitality & energy blends, Petmima has your pets' supplements covered.
About LOTTE DUTY FREE
Established in 1980, LOTTE DUTY FREE stands as the most trusted travel partner and a global leader in travel retail, operating in 21 locations across 7 countries. In addition, the company has continued to innovate the industry by pioneering the duty free e-commerce for international customers. LOTTE DUTY FREE is taking the leap to lead travel trends by becoming the leading platform of the global travel retail industry.
About MGI
Founded in 2010, MGI is considered Asia-Pacific's leading entertainment marketing agency, having produced campaigns with celebrities including Brad Pitt, Jessica Alba, Beyonce Knowles, Maroon 5, Andy Lau, Zhang Ziyi, Karen Mok, Jay Chou and Nicholas Tse.
Part ad agency, part entertainment, part production company, part specialist experience and creative amplification unit, MGI is uniquely structured to respond to our clients' businessneeds with a tailored and bespoke solution, rather than merely defaulting to traditionalcomms. MGI is responsible for brand partnerships for the concert.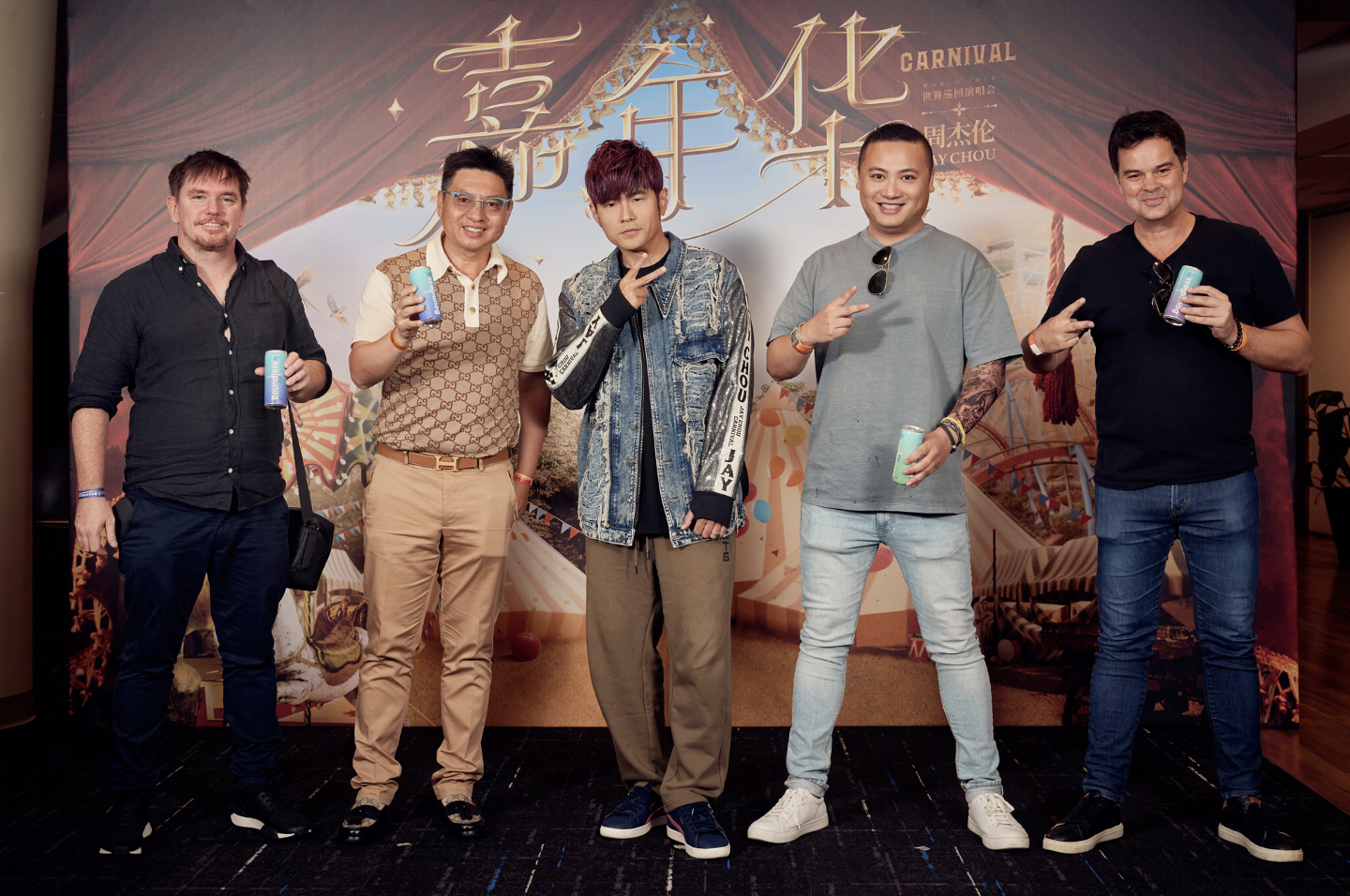 For Sponsorship enquiries, please contact:
Michael MacRitchie
Managing Director
Email : [email protected]