I picked up this article from Frances Wang a freelance journalist based in Shanghai. The complete article can be found here and also below….
SHANGHAI, China – The Chinese market – with China surpassing Japan as the world's second largest economic power in August – has become an important Asian market for big foreign companies. Cosmetics makers, for example, are showing tremendous interest in the market by signing Chinese models to advertise their products.
In 2010, this trend was highlighted when supermodel Liu Wen was picked up by New York-based Estée Lauder as its first Asian face. Actresses Yao Chen and Jiang Yiyan were hired by both Biotherm and Shu Uemura, two brands owned by Paris-based L'Oréal Group. And model Chunxiao became the face used by Tokyo-based Shiseido Co. Ltd.
Building a closer tie with local Chinese consumers is one major reason these companies have chosen Chinese faces, says Philippe Lamy, general manager  of the luxury division at L'Oréal China.
"By hiring a Chinese model, we want to get closer to the Chinese consumers, and it also shows how international our brands are," he says.
Yao Chen's personality and popularity propelled her to become Biotherm's first Asian model, Lamy says. "Her activity and natural aura are in line with Biotherm's spirit. She also is highly recognized in China as a fast rising star."
Yao is the spokesperson for Biotherm's moisturizing series Aquasource. And chances are she will speak for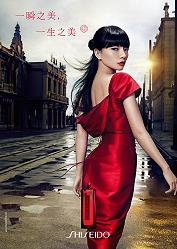 its whitening products later, Lamy adds.
The difference in looks between Asians and Europeans may be the reason Western brands are hiring Chinese models to attract local consumers, but is it also necessary for Asian companies like Shiseido?
For Masatoshi Takagi, art director of Shiseido China, the answer is definitely yes. He said signing Chunxiao helps Shiseido make a statement.
"We want to send a message to Chinese customers that Shiseido is trying to bring beauty to every woman in the world, not just in Japan," he says
Aside from Chunxiao's beauty, which helps distinguish Shiseido from its rivals, her fame also plays an important role for Shiseido's preference for her.
"She is not a superstar, but famous enough to make an influence especially over Chinese young women born after 1980," Takagi says. "It is also very important that she and Shiseido share the same concept of beauty, which should be long-lasting and passed from generation to generation."
Shiseido started to use mainland Chinese as its brand image in 2006, when the company chose Huangyi, the Shanghai-born actress, as the face of Urara, a China-exclusive brand.
In Japan, an impressive beauty is not necessary in cosmetics ads, but in China, it is essential as it is all about making a deep impression, Takagi says.
"For example, you have to perfectly pack up everything – beauty, the product, and the function – into the first split second of a TV commercial or to make an extremely impressive post. If it fails, it could be very difficult for the brand to survive in the Chinese market," he says.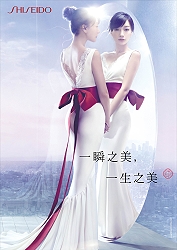 Choosing a famous person to speak for a brand may help promote it in a quick way, but it is also risky in terms of brand reputation, which explains why foreign companies always have to dig into the spokesperson's personality to see if it is in line with the brand spirit, says Laurence B (He uses no last name; only the initial.), president of Vision & Views International, a Shanghai-based fashion brand management company.
"I think it's more likely that those companies met the right person at the right time. Choosing a spokesperson for a brand is something very important. They wouldn't take the risk to ruin a brand by choosing a random Chinese beauty just for pleasing the local consumers," he says, explaining that, traditionally, luxury brands rarely use Chinese models.
"But once they find the right person who shares the same spirit with the brands, they have no problem using a Chinese model," he says, adding there should be more and more Chinese faces in the future with the domestic market getting stronger.
B suggests new companies that intend to enter China should first define the brand clearly instead of seeking a local spokesperson.
"Chinese consumers know it when a brand chooses a wrong person, and they immediately give the brand a thumbs down," he says.