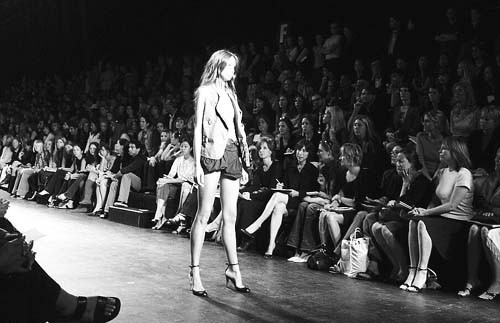 News by Justine GOLDZAHL
MGI was interviewed by Jason Chow from The Wall Street Journal. The complete article can be found  if you click here or just below;
Chinese tour operators have spent the week squiring wealthy tourists from China to fashion shows and shopping sprees around New York, reflecting China's growing clout among brands seeking to reach new shoppers.
Travel concierge companies based in China who cater to the country's rich and upper middle class say interest has been hot for New York's twice-a-year fashion-week event.
Fashion brands "are using more Chinese celebrities, doing more to attract Chinese consumers, because it makes business sense," says Michael MacRitchie, founder of MGI Entertainment, a celebrity-marketing company based in Shanghai.
High-end brands and boutiques are happy to fling open their doors to wealthy Chinese, a demographic that has become increasingly important in the luxury industry, says Mark Byrne, who in 2011 founded High Life Asia, a Chinese travel firm. China now ranks as the world's second-largest luxury consumer market, after the U.S.
For New York Fashion Week, High Life Asia organized a special tour for 12 Chinese professionals and entrepreneurs, most of whom are women. For 250,000 yuan each (about $40,900), the tourists, mostly in their mid-30s, flew business class to New York, stayed seven nights at the Peninsula Hotel on New York's Fifth Avenue, and dined at upscale restaurants such as Eleven Madison Park and Jean-Georges, High Life Asia says. The group attended five runway shows including those by Tadashi Shoji and Brandon Sun.
The biggest hit has been the shopping trips to Bergdorf Goodman and Barneys, among other stores, for which High Life Asia hired a private, bilingual shopper to accompany the tourists, says Patricia Zinkowski, a company official who led the group. "They're a bit on the shy side, except when shopping, where they'll get aggressive and try bargaining," Ms. Zinkowski says. "A few have over-shopped and need more luggage," including one woman who bought 10 pairs of identical Jimmy Choo sandals.
Other excursions: The group was escorted on a midnight tour of Manhattan on the backs of motorcycles. Some of the tourists have asked to view a few Manhattan condos priced above $5 million, and one couple flew by private jet to California for an overnight trip to go wine-tasting. "I got the plane for $80,000, which is a great price," says Ms. Zinkowski.
Alan Lee, a Chinese-Australian investment adviser in the group, says he saw the New York Fashion Week trip as a networking opportunity. So, along with his wife, Mr. Lee says he brought a few of his clients. Wealthy people in China aren't satisfied anymore with "the old way of travel," in which guided tours take groups to a series of tourist sites, he says.
Mr. Byrne, High Life Asia's founder, says the company has put together similar itineraries for rich Chinese tourists to attend other high-profile events, such as the Cannes Film Festival in France and the Grammy Awards ceremony in Los Angeles. "We're not the typical Chinese tour group with the flag," he says. "But these people do want to meet other like-minded travelers. They want to be part of the same social circle, or expand their network."
MGI Entertainment, the Shanghai marketing company, says it sent two Chinese celebrities to New York this year on behalf of fashion brands. "The concept is you put the Chinese celebrity in the front row, and the media and the blogs give them more exposure back home," says Mr. MacRitchie. Citing confidentiality agreements, he declined to identify the celebrities or say which fashion brands sat them in their shows.
Other recent celebrity campaigns MGI Entertainment has worked on included coordinating Brad Pitt's campaign in China for Cadillac cars and Li Bingbing endorsement of a Gucci fragrance, Mr. MacRitchie says.
Another sign of China's growing interest in New York's fashion week: A fundraising dinner held at the Pierre hotel to raise money for the China Beauty Charity Fund, which awards scholarships to aspiring Chinese designers to work abroad. The dinner—tables went for as much as $30,000—was hosted by Yue Sai Kan, the doyenne who heads the country's Miss Universe China pageant. Honored guests were Vivienne Tam and Guo Pei, both Chinese designers.
Ms. Zinkowski, with the High Life Asia tour, says the company expects to organize more fashion-week oriented tours in New York. She says two of the younger members of the current group have asked her to reroute their return plane tickets. Instead of a direct flight to Shanghai, they want Ms. Zinkowski to book them tickets to London for that city's upcoming fashion week. "They want to follow the party to London," she says. "They're young fashionistas, and they're now part of this international crowd. They love it."