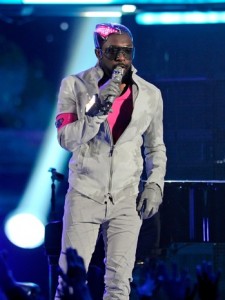 News by Michael MacRitchie
BEIJING — The Black Eyed Peas' will.i.am is heading back to China in support of the Obama Administration's 100,000 Strong initiative, designed to boost the number of American students studying in China, for a concert announced for later this year.
The U.S. State Dept. said that following a meeting with Secretary of State Hillary Clinton, will.i.am agreed to perform at and help promote the show, for which no date has yet been given.
The concert is being organized by Americans Promoting Study Abroad, a U.S. nonprofit organization that sponsors low-income students to study Chinese language and culture in China. Clinton and will.i.am met on July 29 in Washington, according to the State Dept.
The concert would be will.i.am's third official performance in China, having played here with the Black Eyed Peas twice, in 2006 and again in 2009.
The concert, which will feature performances by will.i.am and other US and Chinese pop stars, will promote and benefit the plan, said the statement, which did not give details about the other participants.
"In order to become responsible global citizens, young people need to experience the world around them," will.i.am said in the statement.
"We must make sure that American students have the cultural awareness and skills necessary to succeed in a global economy."
http://www.straitstimes.com/BreakingNews/Lifestyle/Story/STIStory_696479.html
http://www.allhiphop.com/stories/news/archive/2011/07/30/22854721.aspx
http://www.nytimes.com/2011/08/01/arts/music/state-department-taps-william-for-china-effort.html
 "There are very few global challenges that can solved unless the United States and China agree. That is why I am very pleased to announce that the US will dramatically expand the number of students who study in China to 100,000 students in the next 4 years. This exchanges mark clear commitment to build ties between among our people surely as you will help determine the destiny of the 21st century" President Obama said while addressing several hundred students.
The 100,000 Strong Initiative was launched by the Obama Administration, in partial cooperation with the Chinese government, in response to Chinese students studying in the U.S. outnumbering Americans students in China by 10 to one. The public-private partnership has so far attracted $7 million in funding.
APSA is seeking to raise USD 10 million including USD1million for study abroad programs in each of -eight US cities and USD 2 million to fund APSA's programs.  Funding will come from philanthropic donations and commercial sponsorships of events.
MGI Entertainment is handling the brand partnerships and commercial sponsorship opportunities available at the Beijing concert in December this year. APSA sponsors and donors receive access to VIP events during the week of the concert and will be able to strengthen political ties between US and Chinese relations.
Michael MacRitchie, Vice President of MGI Entertainment, is asking all US and Chinese companies to not only see this as an unprecedented branding opportunity but also a way to help these young students gain global perspective through the power of education. Not only is this event high profile but the flow on effects for the brands and students will be enormous