An insight by Andrew Howie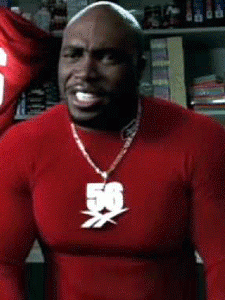 This hugely successful campaign was the brain child of Rawson Marshall Thurber, who also played a huge role in the writing and directing of 'Dodgeball: A True Underdog Story'.
The 'Terry Tate – Office Line Backer' series was first produced in 2002 and aired during half time of the 2003 NFL Super Bowl. The main character, 'Terrible' Terry Tate, also known as Triple T and The Pain Train, was played by Leister Speight, a little known professional footballer who also had a short lived professional wrestling career.
The series originally featured 6 episodes, including 'Terry's World', "Draft Day' and 'Vacation' with the hilarious 'Sensitivity Training' following as the 7th episode.
The campaign features Ron Felcher, the CEO of Felcher & Sons, who hired Terry Tate to boost office morale.
As a result of his hiring, the office enjoyed an increase of 46%.
His job is to keep people in the office obeying rules ranging from filling the coffee pot to putting cans in the recycling bin. He also monitors the use of stationary and long distance phone calls.
To show that The Pain Train has a more human side, he is seen to greet various staff members with cheer and even hands over a birthday cake.
This series has gone on to be one of the most successful ever in the history of Super Bowl half time ads. Despite only being played once on national television in America, it has enjoyed more than 7 million downloads on the Reebok website plus cumulatively well over 15 million views on Youtube.
A great example of how a relatively unknown celebrity can be used to great effect in boosting brand recognition and affinity.
The first episode from the series can be seen here:
httpv://www.youtube.com/watch?v=RzToNo7A-94
And the genius 'Sensitivity Training' episode can be seen here: